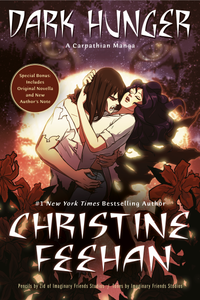 Feehan & Co.
Autographed Dark Hunger - A Carpathian Manga
Regular price
$18.00
$0.00
Unit price
per
Experience Christine Feehan's Carpathian classic like never before with this edition of Dark Hunger which includes the original novella which inspired the manga and a new note from the author!
 *Your books will be signed to the name on the order form.  If you would like the books addressed to another name or you would like a short personalized message, please contact us at feehanandco@gmail.com and we will do our best to accommodate your request.
**Please allow 1-3 business days to prepare autographed copies prior to shipping.
DARK Hunger (Trade Paperback)
He is Riordan...Carpathian male. Immortal. Seer. Now trapped and cage, his honor is compromised by his captors. They're in his mind. They're in his blood. And not one can withstand his desire for revenge.

She is Juliette...A beautiful activist devoted to the liberation of animals from the foul and humid confines of a secret, jungle lab. What she has stumbled upon is unexpected—a prisoner like no other she has ever seen. Or touched.

She will release him from his bonds. He will release her from her inhibitions. Each has a voracious appetite that must be sated....
---